Centre for Appearance Research (CAR) - Somali Heritage & NF Study
19 May 2021
Researchers at the Centre for Appearance Research (CAR) at the University of the West of England in Bristol, want to hear from people of Somali heritage who have nerve tumours affecting the face. This research will be crucial for informing the development of future support for Somali people with appearance-altering conditions, like nerve tumours. To find out more or to take part, please contact Bruna: bruna.oliveiracosta@uwe.ac.uk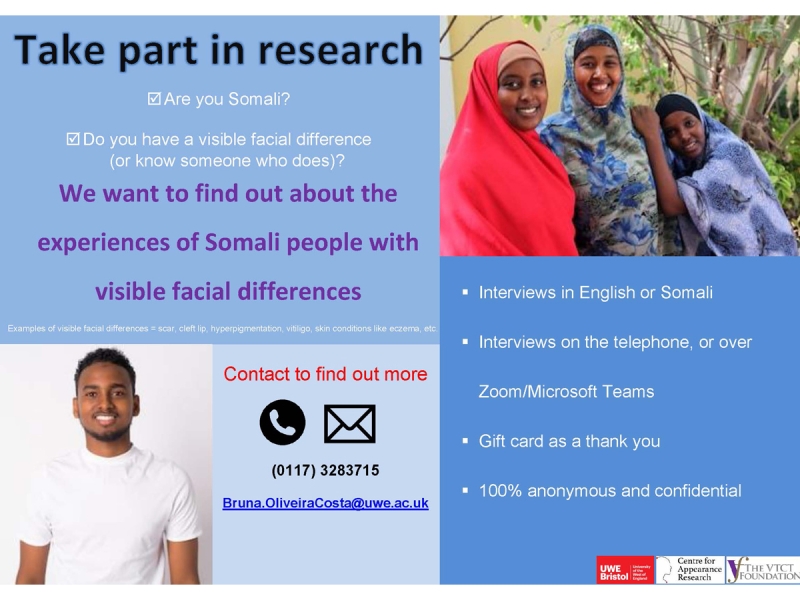 Further details of the study
Bruna Costa, a researcher and trainee health psychologist at CAR, has launched an interview study to explore the experiences of Somali people with a visible facial difference, like nerve tumours.
Interviews will be remote (i.e., over the phone, on Microsoft Teams or Zoom) and can be in English or Somali. Interviews will cover several topics about the psychosocial impact of living with a visible facial difference.
Findings from this study will be important in helping shape the development of future support for Somali people affected by visible differences.
If you have any questions about the study or would like to take part, please contact Bruna: bruna.oliveiracosta@uwe.ac.uk