11 February 2022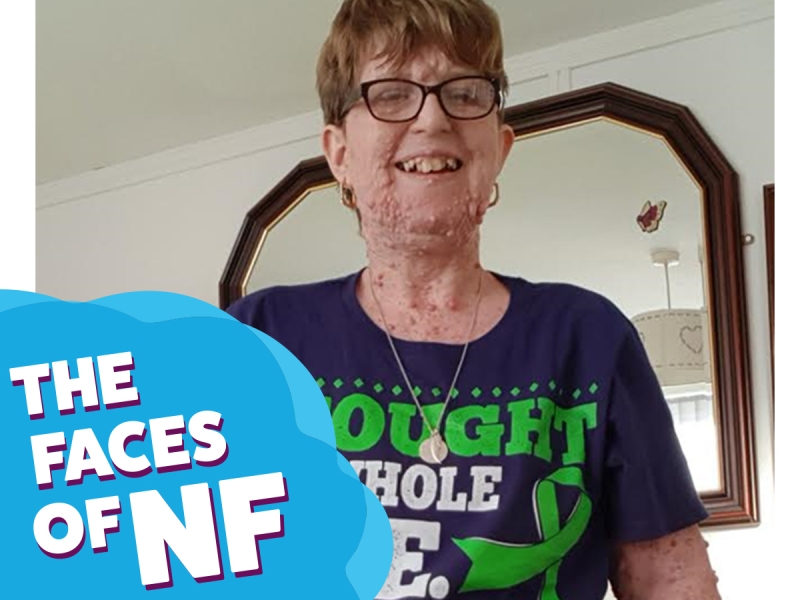 My name is Noreen and I have Neurofibromatosis type 1.
I was diagnosed at 17 years old making me the second person in Northern Ireland to ever be diagnosed.
I suffer from the excruciating pain that is caused by the hundreds of tumours all over my body.
They occur from the top of my head to the sole of my feet.
Every day I wake up to find new tumours.
The older I have gotten, the worse my NF1 has become.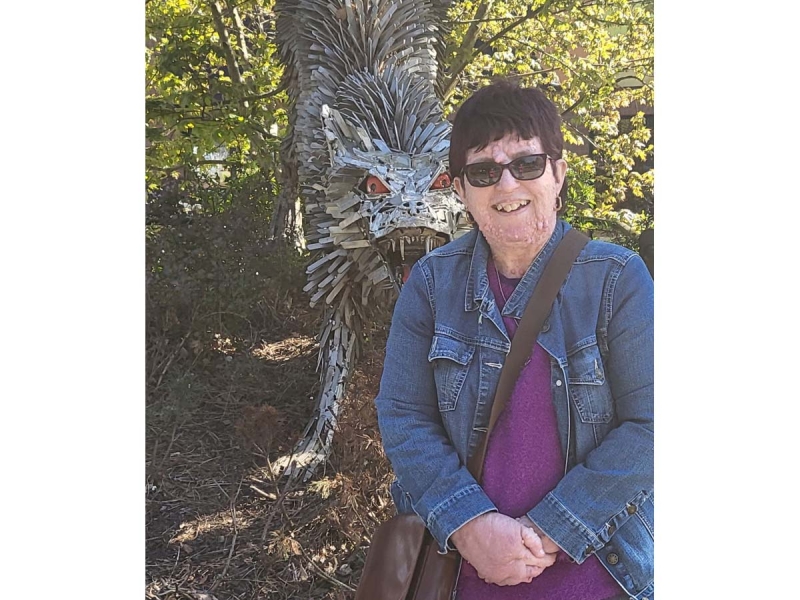 MAY 2022
Now at the Day Centre, we are moved to different rooms, (with) so many in the room. They are starting to bring more people back, (but) only a few at a time.
I have started to go out more with a disabled group.
My friend Annette got me involved in it. We go across the city, I don't mind getting taxis.
We were in the city last week and passed the CS Lewis Library. I took photos of the characters. It was brilliant, as I did not know they were there.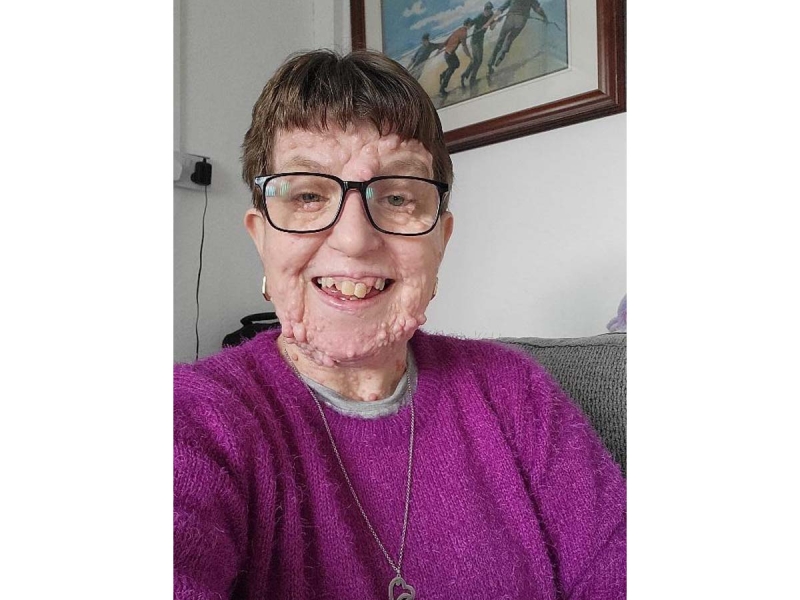 March 2022
Now I go to my day centre once a week instead of fortnightly. It's great going to see my friends and the staff look after us very well.
We do things such as quiz's, watch films, puzzles and have talks about what's going on in the world. I bring my laptop to write short stories and gave myself projects to do like looking up my family history and recording my life story.
Currently we sit in the canteen, there is about 12 people at one time. That is the maximum allowed in our day centre till things get back to normal.
Hopefully one day we can get all of service users back to the centre and our normal groups.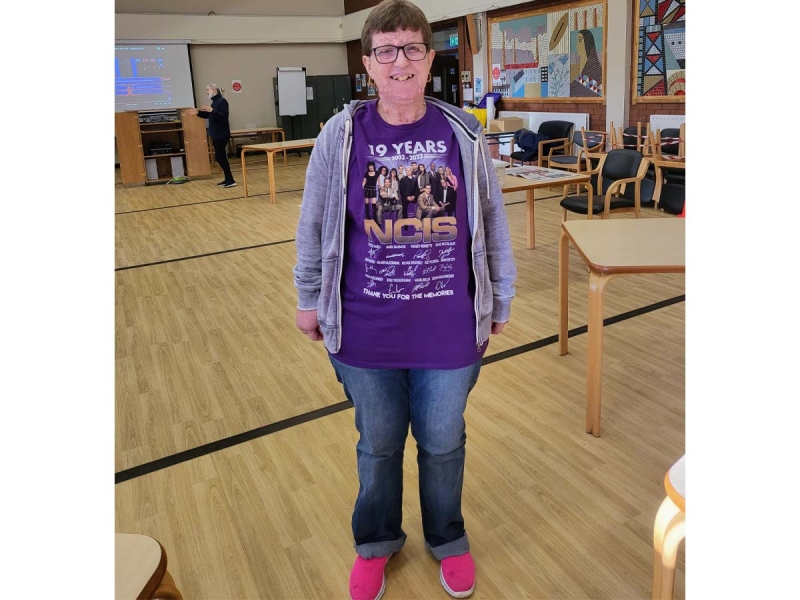 February 2022
My day centre is open again. We were in once a fortnight for months, now we go once a week. That's where I see my friends and the staff are brilliant, they are keeping us all safe, wearing all the gear and keeping themselves safe.

We had a death in the family - my mummy's young brother Bill died, he was very ill, he passed away only a few day after my Mummy's 11th anniversary. It was a very sad time.

I have been very close to my wee neighbour Lena, we have become very close friends, only friend I can trust. Lena is 85 years old and she has asked me to teach her how to use a computer, she seen me on mine, she thinks I am brilliant all the things I can do, so she wants to learn.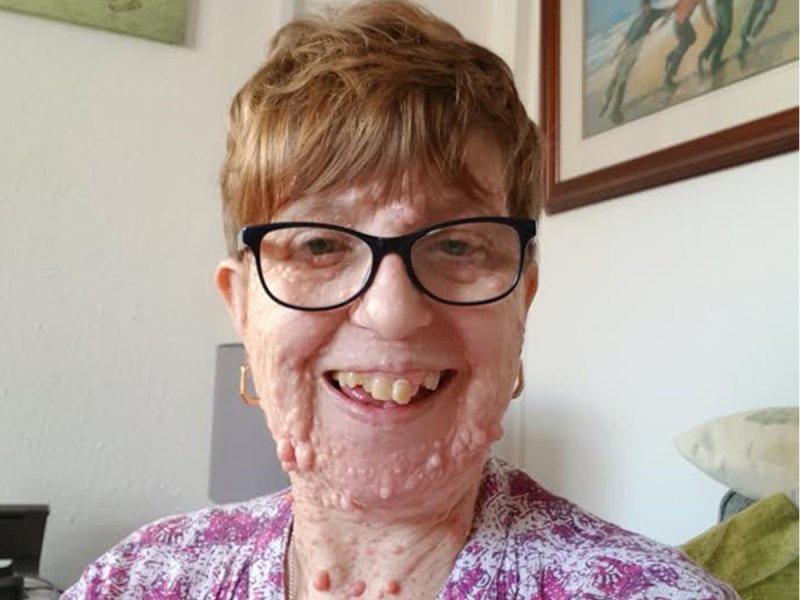 December 2020: Reflections on lockdown
Over the years I have had many surgeries to remove my tumours and this year was no different. I had one surgery on my right hand in March and one recently in September on my head, neck and spine, I did not like being in the hospital.
I am the only one in my family who has NF and I currently live alone in my bungalow, which has been hard in lockdown. I usually go to my day centre to socialise twice a week. I call this my safe place as no one looks at me differently, it's nice to have this community as we are all there for different reasons but can support each other.
Unfortunately, due to Covid-19, my day centre has been closed and I haven't been able to see my friends and family. Luckily, my neighbour, Lena has been a lifesaver as we are able to chat to one another safely.
I also have a lot of friends on the internet, specifically in the Nerve Tumours community who are always there to support me, as well as my sister, my nephews Tiarnan, Alfie and brother-in-law Lee, who I spoke to this year mostly over the phone.
I hope this will change in 2021 and things become more normal and I can see my friends and family again.
January 2020 - Noreen shares her story
Throughout my life my development was slow, I didn't learn to walk and or even get my baby teeth until after I was 2 years old. My tumours didn't appear until I was a teenager.
Developing these tumours led to a sad turn of events in which strangers would call me names, shopkeepers would refuse to take money directly from my hand (they would ask me to put it on the counter instead).
It's extremely hurtful and means I only aim to go out for my hospital appointments at my day centre which occurs twice a week. My day centre is a safe place as no one stares at me there.
I am waiting to go into hospital for major surgery as there are tumours growing on my spine and it's making it hard to walk due to the dizzy spells and pins and needles that I have been experiencing. I am hoping surgery will help.
No one else in my family has NF, I lost my mummy 9 years ago. I now live on my own it has been very hard at times. I am 45 years old, on Facebook and there are quite a lot of pages for NF so there is a lot of support out there I can benefit from.