Stuart & William's Story: Turning blue for World NF Month
29 March 2021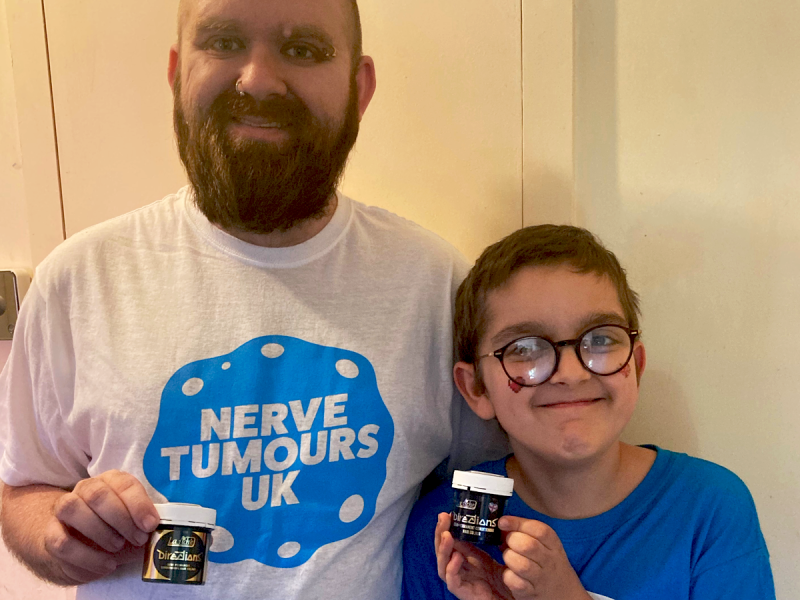 It wasn't until December 2019 that my wife and I heard of Neurofibromatosis. We had been seeking help for quite a while for William's behavioural issues. We suspected it might be related to Autism spectrum disorder (ASD) and Attention deficit hyperactivity disorder (ADHD), but were struggling to find answers until another parent at a group my wife was attending mentioned her own child's cafe au lait marks and that he was being checked for neurofibromatosis. Both William and I have many cafe au lait marks, but we always just thought they were birthmarks. We had no idea that they could be a sign for anything else. After a lot of reading up on symptoms, it appeared that we finally had answers for William's behavioural struggles and so much more.
Both William and I gave samples to be tested by a geneticist and by May 2020 we were both diagnosed with Neurofibromatosis Type 1 (NF1). I was 32 when I was finally diagnosed; I had been suffering from pain in my neck, shoulder, and arm for years but when I had seen doctors in the past, I had been given various different reasons for the pain. Now with a diagnosis of NF1 I have been referred for MRI scans to investigate the cause of the pain and have been given effective pain relief. I still struggle with pain but now I have answers as to why and I have support, should I need it, through the Nerve Tumours UK team. William has had MRI scans that thankfully were all clear, but the paediatrician will continue to monitor him annually and he has finally been referred for an ADHD assessment. William's biggest struggle now is that he has been diagnosed with precocious puberty meaning he has to have hormone injections around every 3 months for the next couple of years to halt the progress.
William and I are dyeing our hair blue and green, the colours of NF, for the month of May – which is World NF Awareness Month. We hope to raise as much money as possible for Nerve Tumours UK so that they can continue to provide information and support to individuals and families, and to help them spread awareness of Neurofibromatosis as if it wasn't for that other parent mentioning it to my wife, we still wouldn't be aware of it.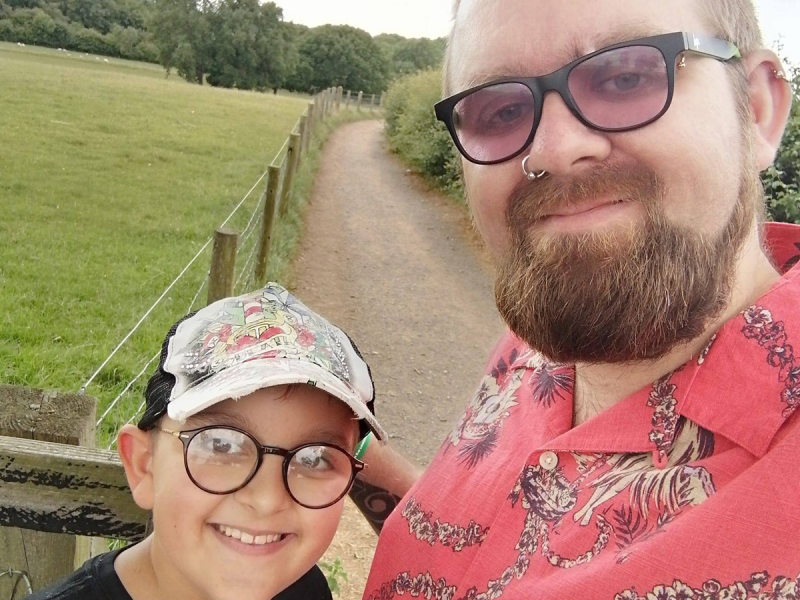 Feeling inspired? We're calling on you to get creative and follow in Stuart's footsteps this May for World Neurofibromatosis Month! We've got loads of ideas to kick start your fundraising efforts, why not look at the link below.
Do you want to talk to our fundraising team?
If you've got your own unique fundraiser let us know and become one of our fundraising inspirations! Or if you want to pick some of our ideas contact us at fundraising@nervetumours.org.uk or call 0208 439 1234 and speak directly to our fundraising team.