Jo's 160 Mile walk for NTUK!
31 March 2021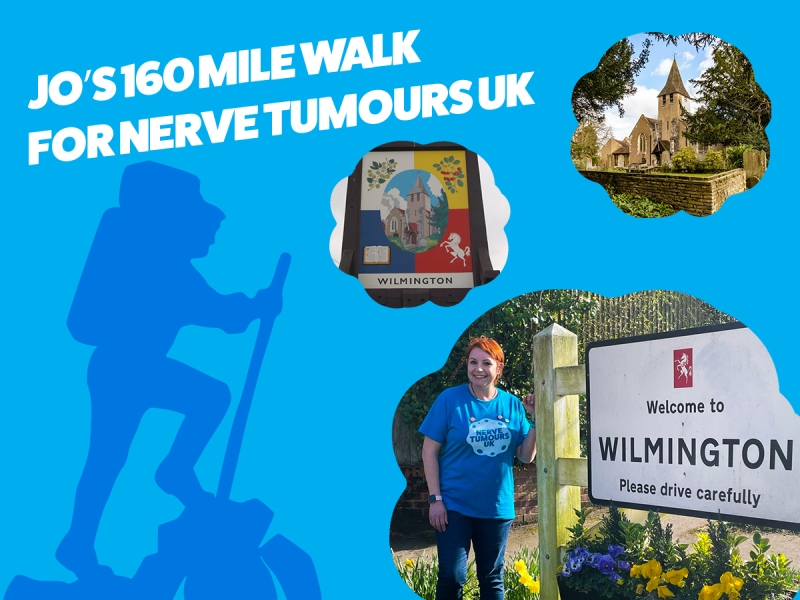 20/04/21 - 129 Miles completed so far!
Jo's getting ever closer to her incredible 160-mile goal - completing 129 miles so far and raising awareness and funds to support Nerve Tumours UK. She's been out walking in and around her local area passing through Wilmington, Dartford, Hextable, Horton, Kirby, Sutton at home and Farningham. Bringing family and dogs along for the walks she's been proudly wearing her Nerve Tumours UK T-Shirt, helping to Shine A Light on Neurofibromatosis in her local community.
Taking each day with a spring in her step, she's smashing her walking target and is well on her way to reach 160 miles before the end of the month!
Help support her get to the finishing line
31/03/21 - Jo's Walk Begins
My son Ronnie is 11 years old and was diagnosed with Neurofibromatosis Type 1 before his third birthday. Ronnie had multiple Café au Lait spots and his diagnosis has been confirmed following a blood test. Since then Ronnie has been under the care of the Neurofibromatosis Team at Guy's Hospital in London, having many appointments over the years. The support and guidance we receive has been and is so important to us as a family. Ronnie faced many challenges over the last few years with medical issues such as recurrent ear infections due to the plexiform fibroma around his ear, neck, and shoulder and as well with aches and pains in his feet and legs due to flat feet. Ronnie also struggles with everyday challenges like learning difficulties, social situations, cognitive issues, anxiety, and disruption in routine. Currently, Ronnie attends a specialist secondary school, which also helps him with his everyday struggles and education.
I have decided to take on my fundraising challenge, walking 160 miles over the month of April, completing 5.3 miles a day in and around Wilmington, Kent for NTUK. I have chosen to fundraise for Nerve Tumours UK as it is so important to us as a family and specifically for Ronnie's future to raise awareness and support for those that are affected by this rare condition. At the same time, I want to highlight the impact it has both physically and mentally on those affected and their families.
To us Ronnie is awesome, a real NF warrior facing so many things that he is uncomfortable with, from blood tests, MRI scans, blood pressure checks, breaks in routine, meeting many different doctors and nurses and so much more. Day to day life is not easy for Ronnie, but he overcomes these challenges which amazes us and makes us proud.
At the moment I don't have a specific route for my fundraiser, but I am hoping to enjoy many wonderful walks to raise awareness about Neurofibromatosis and to reach my goal of 160 miles!