Be as creative as Faye – Follow her social distance fundraising example!
21 January 2021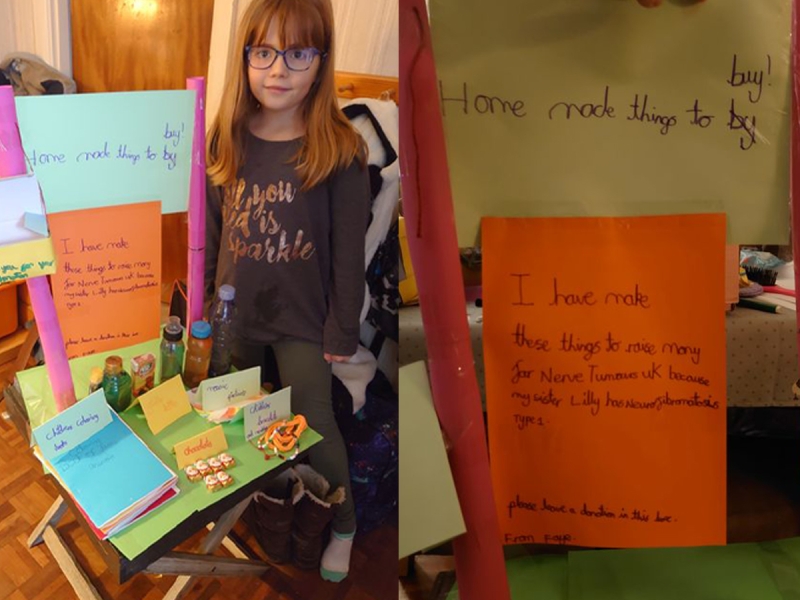 Faye decided that lockdown wasn't going to stop her from supporting her sister, Lilly who has Neurofibromatosis type 1 (NF1). Lilly was first diagnosed with NF1 at the age of 5, after her parents noticed some strange bruise-like patches on her face and more dense freckling on her body as she got older. Lilly and her family starred in our Shine a Light on Neurofibromatosis movie, where they help to shed light on the challenges they face as a family and the invaluable support that our Specialist NF Nurses have provided, helping them to tackle each hurdle as it occurs.
Faye used one of her home-schooling days to think outside the box and "raise some money for Lilly's charity to help Lilly", says Mum, Sarah.
She then took it upon herself to start making "glitter bottles, drawing her own colouring books, making bracelets and pattern pictures. She then set up a little table, complete with hand sanitiser, placing it outside the house with a sign explaining what she was doing and why."
Faye's creative efforts ended up raising a substantial amount for Nerve Tumours UK.
"We are so proud of her and Lilly was overwhelmed." – Mum, Sarah
You can follow Faye's example and get creative with your fundraising! Social distancing shouldn't stop us from helping others where we can. For inspiration check out our Fun-Raising article below.