Artificial Intelligence & Disability Recruitment
13 August 2020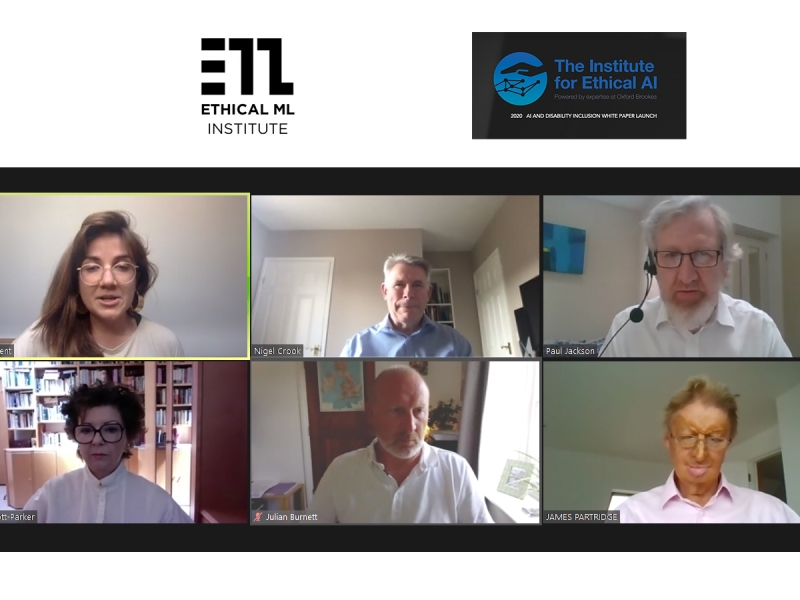 The Institute for Ethical Artificial Intelligence is launching its new white paper, "Recruitment AI has a Disability Problem: questions employers should be asking to promote fairness."
They invited a roundtable of experts to discuss how AI and advanced analytics technologies impact the life chances of people with disability and discuss strategies for ethically procuring and deploying technologies for recruitment. In doing so, they further the point that making systems fairer for disabled users, ensures systems are fairer for all.
The Institute for Ethical Artificial Intelligence is there to help organisations working in the professional services to understand and plan for the risks and opportunities that AI and data analysis technologies can bring to their organisation, their stakeholders and society at large. Working with both the users and the providers of AI technology, as well as developing bespoke AI solutions, they research and advise on the ethical impact of AI technology on organisations and individuals. In order to achieve this, bringing together a diverse group of world-leading experts who together blend knowledge and skills from technology, business, social science and the life sciences. With the aim to deliver expertise and independent guidance in areas that include AI and machine learning, disability, psychology, business development, equality, and diversity, coaching and mentoring, digital health, and wellbeing. Specific issues arose on understanding how AI technology might discriminate against those that have a visible disability in face recognition software. We at Nerve Tumours UK and as part of Face Equality international support their work in deploying fair processes to everyone using AI technology in the employment process and want to make sure that this is in place as part of any new technology role out. If you or anyone might be affected in the employment process by Artificial Intelligence have a read or let us know if you have any questions.
The Panel included:
Nigel Crook - Professor of Artificial Intelligence and Robotics at Oxford Brookes University and Founder of the Institute for Ethical Artificial Intelligence
Academic lecturer and researcher with nearly 30 years of experience in the field of AI. Prof Crook is interested in the areas of explainability, autonomous moral machines, and ethical AI.
Julian Burnett - VP, Global Markets at IBM
A senior business & technology leader, Top 40 CIO/CTO specialising in digital transformation and growth of retail & consumer industry businesses.
Susan Scott-Parker, OBE HonD - Founder of Business Disability International and Business Disability Forum.
Internationally recognised as a thought leader on how to mobilise business behind the economic and social inclusion of people with disabilities worldwide.
James Partridge OBE, DSc (Hon) - Founder of Face Equality International
An influential advocate for 'face equality' and challenging disfigurement prejudice and discrimination. He writes and presents widely on disfigurement, disability, inclusion and social entrepreneurship in the UK and internationally, including for his latest book, Face IT: Facial Disfigurement and My Fight for Face Equality (Pebble Press, 2020).
The event will be hosted by:
Paul Jackson MSc, PhD - Principal Consultant, Institute for Ethical AI, Oxford Brookes University School of Business
Academic researcher, lecturer and management adviser, with expertise in digital innovation and systems analysis.
Selin Nugent MA, PhD - Assistant Director of the Institute for Ethical Artificial Intelligence, Oxford Brookes University
Computational anthropologist whose research focuses on the social and behavioural impacts of technology, particularly in the areas of employment, organisational behaviour, and inequality.
The Institute for Ethical AI & Machine Learning
The Institute for Ethical AI & Machine Learning is a UK-based research centre that carries out highly-technical research into processes and frameworks that support the responsible development, deployment and operation of machine learning systems. https://ethical.institute/