28 May 2020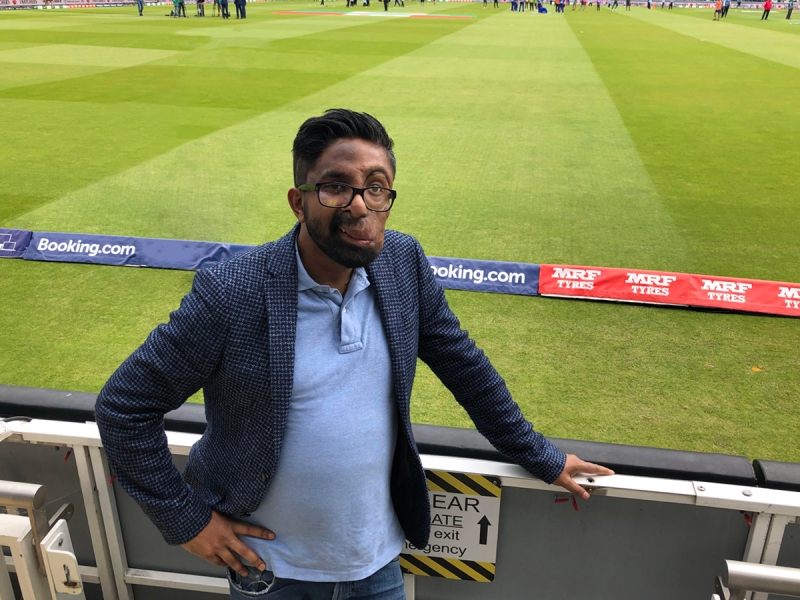 It's not easy sometimes. You walk around conscious of what people maybe thinking. You put your head down and walk on trying to run away from the situation. But it's like you can run but you can't hide. I try and be myself and be caring, but sometimes I just think - are you being nice because of the way I am? Or do you genuinely have an affection towards me. I don't know, sometimes I am full of confidence and it doesn't really matter how I look. I feel that I'm a smart dresser and have confidence that I can hold interesting conversations with people which will make them warm towards me. But in my loneliness, I think about the way I look, my fat lips & my artificial eye that looks like a patch sitting on my eye. The fact that I dribble sometimes without even knowing.
I have to always make sure I'm sitting on the right side of someone, so they see the right side of my face rather than seeing the left side. When someone sits on my left, I feel really uncomfortable and feel like they are looking at me and thinking how ugly or that they are feeling uncomfortable looking at me.
It's really not easy going on a bus and having to sit next to someone who is sitting to my left. Sometimes I see someone who I find attractive like we all might see someone. I look at them and then all of a sudden it hits me that no, you're not good enough to even admire this person and I look down and try to ignore anyone who is there. I feel that if that person sees me looking at them, they will be thinking what the hell.
Being in hospitals is never a good time for anyone, let alone myself. It's a time when I'm reminded that there's something different about me. It reminds me about the condition I was born with and tells me that I have an ugly half of my face. It's a period when my whole family really showed they care about me. It's an overwhelming feeling and makes me feel wanted however, it also makes me ask myself why me? Why do I have to put myself and my family through this.
My mum will start worrying 2 days before the operation, ensuring my timetable is set accordingly and I get enough rest before the operation. On the day of the operation I will have to perform prayers in the house before leaving for the hospital.
Dr Nisikawa, my consultant since the age of 11, is like god on earth to me. He has given me a new beginning, a new start. When I look at a picture of myself from when I was 9/10 it scares me. The oversized eye lid covering my eye, the left nostril almost twice the size and wider than the right and my face pulling and hanging down towards the left. Dr Nisikawa changed all that and gave me a new appearance, one that I could present myself with to the public. If I still had the oversized eye lid and the rest, I don't feel I could come out and meet people face to face.
So before each operation Dr Nisikawa will come and see me and reassure me that I am already looking so great and that we have come a long way since me and him met. However, we would also keep my expectations in line by telling me that I can never be symmetrical (I always thought in my head; who is anyway? That was my way of reassuring myself that it is okay Amit).
He would always ask me what I wanted done and he would try and look closely with his team and talk about what they can achieve. When I'm about to be taken in I have mixed feelings of being nervous and thinking why me? Why do I have to go through this? However, I always took the supreme lords name to calm my mind.
When I started having the operations it was my father who was always with me. It was as if for him, nothing else was more important than my condition and getting me right. It was as if this was his issue and only he could deal with it. He used to constantly try and tell me that I was beautiful and that things would be alright; he would tell me that I was a brave boy, when in reality it was him who was brave.
Since he passed away; waiting to go into surgery has become a lonely process. Even though everyone is worried and was concerned for me, no one ever realised that I just needed my hand holding before being put to sleep.
Recovery rooms became very lonely when I wouldn't hear his voice saying you're ok my son, everything is fine. I can already see the wonderful work they have done and you look amazing. Hospitals are just a reminder to me that yes I have a condition and yes I need to deal with it.
But you have to remain positive and find the good points and build on them. The condition can easily take your life away from you, it can put you in a state of misery and just leave you depressed. But you have to find the bigger things in life that make life worth living.
I've been fortunate from a very early age. I have some amazing friends around me who made me feel comfortable and didn't let me notice my imprecations much. They treated me just as they treated anyone else, which was great because it gave me a feeling that I wasn't getting special treatment from them for the way I was. This helped me to develop into the person I am today, who takes little notice of the condition and goes on with his day to day chores as anyone else would. I don't treat myself differently because I was never treated differently.
The world is just a shallow place, we all in some way are shallow and judge a book by its cover. People don't tend to look for the inside because that takes too long. They look at someone and make up their mind if they will speak to a certain person or if that person is worthy of their relationship.
This is something I always say to myself when things don't go my way. I have in the past joined dating sites and put up pictures of myself. If you have ever noticed all my pictures are of me posing in such a way that you can only see one side on my face. So when I upload pics on these dating sites people can see the "better side".
However, you read a profile of a girl and she says how she is all into getting to know someone but when it comes down to it, it just seems that they all judge a book by its cover.
I worry a lot most of the time, but above all I just think to myself that maybe because of the way I am, I have become a better person and people see that about me. I try and carry myself well and not let things get to me and sometimes that confidence lets people get on with me quite well. Some people say after seeing me 2/3 times they almost forget it exists.