Team NTUK London Marathon 2023
28 March 2023
Team NTUK has 38 runners taking part in this year's London Marathon.
We have five repeat runners, one who previously ran the Great North Run for NTUK and thirty-two joining us for the first time. Amongst our numbers, are three runners travelling from the USA, one from the Republic of Ireland and one from China.
The event returns to its traditional late April date and falls on St George's Day, Sunday 23rd April.
Joining our runners along the famous route will be the likes of elite runners Sir Mo Farah and Eilish McColgan, plus celebrities from TV, radio, film and sport. Up to 50,000 will complete the 26.2 mile course from Greenwich to The Mall.
More than a million people have taken part in the London Marathon, with charity runners raising more than a billion pounds for good causes. The TCS London Marathon raises more money for charity than any other annual event.
Meet some of our runners who have shared their personal story and inspiration for running the marathon.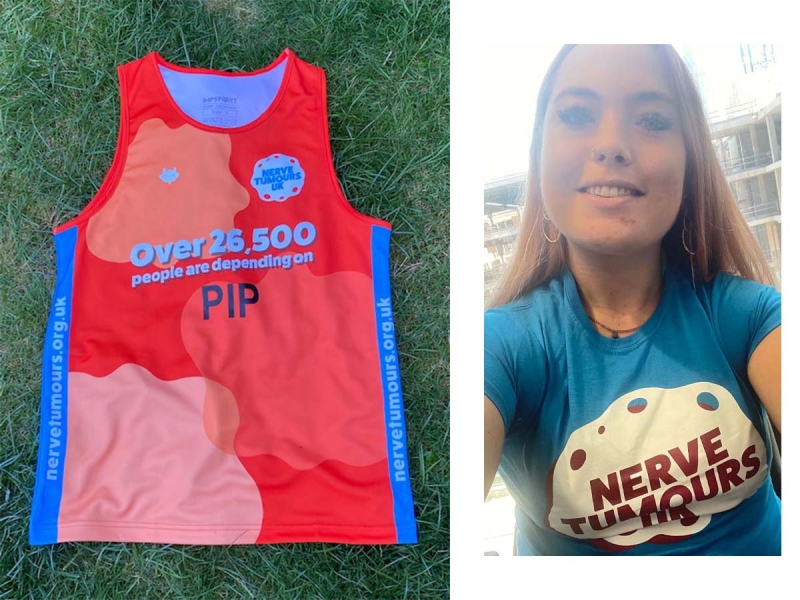 Pip
I am 25 years old and live in Kent. I was first diagnosed with NF1 when I was 5 years old. NF1 has left me with limited vision, due to tumours on my optic nerve. However, I try not to let this impact on my everyday life and try to be as independent as possible.
Due to being diagnosed at such a young age, I had no idea what the condition was and the impact this would have on my life.
The reason I decided to run the London Marathon, is because my sister ran it last year, and the atmosphere was electric! I thought to myself that this is a fantastic thing to do, and would be a great achievement to complete.
I chose Nerve Tumours UK because I suffer from the condition, and we need to make Neurofibromatosis more noticeable, and the money raised would be going to such a great cause.
I think it's a great idea that guide runners are able to participate in the London Marathon, supporting someone with a disability. My sister Rebecca will run with me and support me all the way.
I think it's important for me to run the London Marathon because it doesn't matter whether you have a disability, you can still achieve anything you set your mind to. In addition, I love keeping fit and going to the gym. This has definitely helped when I am stressed or suffering from anxiety.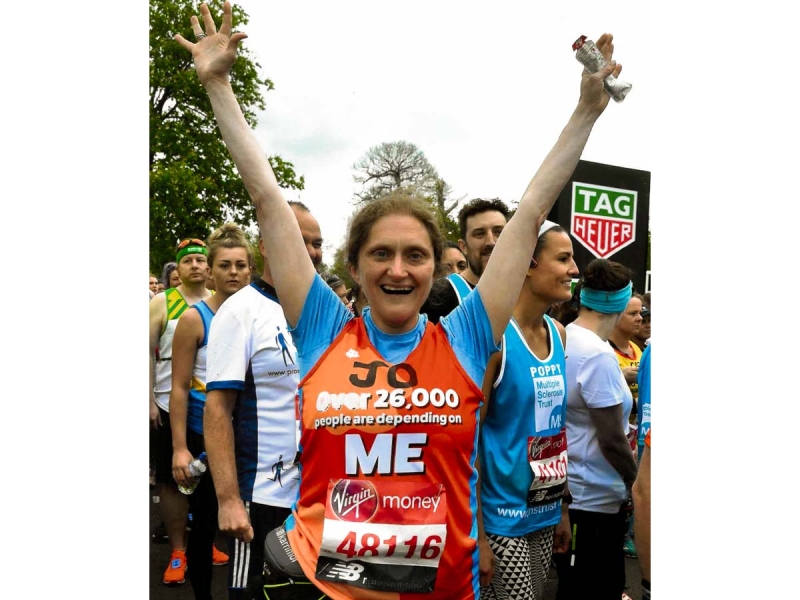 Joanna
My mother had NF1, as do both my brother and I. We are not alone in having NF1. There are 26,000 people who have NF in the UK.
I am an academic geneticist working at Newcastle University. I work in the same building where my diagnosis was made though cascaded screening aged 38. This means that I was tested due to family members having NF1, rather than there being strong indications that I had the condition. I came forward for cascade screening because I know it would pave the way for me to have access to breast screening.
I was diagnosed with breast cancer June 2021 after a recall from my annual mammogram aged 45. Women with NF1 have an increased risk of breast cancer and should be attending annual mammograms from the age of 40.
My diagnosis was the start of 18 months of cancer treatment. For me this involved chemotherapy, surgery, radiotherapy, and targeted biological therapy but it is important to know that treatment is tailored to each patient.
I am not only continuously running to raise awareness for Neurofibromatosis but also to get this message out to more women with NF1. My big goal is to run the London Marathon in April 2023 and I am back in my running shoes running smaller 10k distances. My doctor gave me the okay for running, in fact, they said exercise was recommended.
I ran the London Marathon for NTUK in 2019, to fulfil a promise that I made to my father who passed away November 2018. In 2019, when I ran the London Marathon, I was beaten by at least three of the rhinos. And that was running without cancer treatment. So, I have never been fast. But it is crossing the line that matters, not when you cross.
When diagnosed with cancer last June, I was running five times a week, I was as fit as I had ever been. I have decided that with my cancer treatment coming to an end November 2022, I will focus on London in April 2023. It is a fabulous race. London at its best, and the support is incredible! I get goosebumps thinking about it.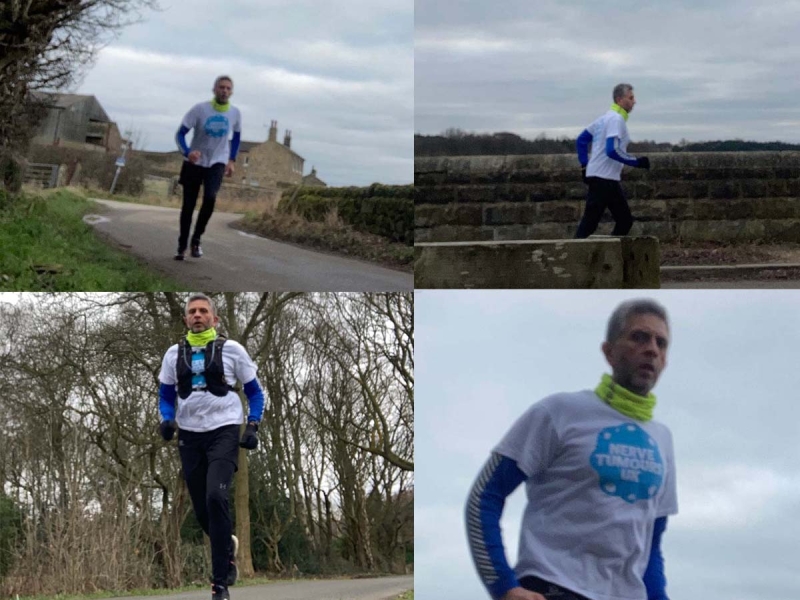 Ragbir
I am the the paediatric lead for Neurofibromatosis Type 1 in Leeds.
Specialist NF Nurse Carol Irving and I run the surveillance clinic, aiming to see all young people with NF1 on a yearly basis. I have been doing this for over 12 years now.
During that time I have met some inspirational young people and their families. It has been a privilege to see them grow into adults who are making a positive contribution to society, regardless of what the world throws at them. I have learnt so much from them and have always wondered how I could repay their kindness.
So when the chance of raising money for Nerve Tumours UK by running the London Marathon came up, I grabbed at it with both hands, even though I vowed I would never do another marathon again!
Marathon training I previously found, takes up a lot of time - 5 runs a week, including a long 3-4hr run at the weekend but this is a worthwhile charity, that cares for young people and their families that I also care about - so the sacrifice is worth it.
On top of that, Nerve Tumours UK also part fund Carol's post - without whom my job would be impossible and without whom I wouldn't be doing this!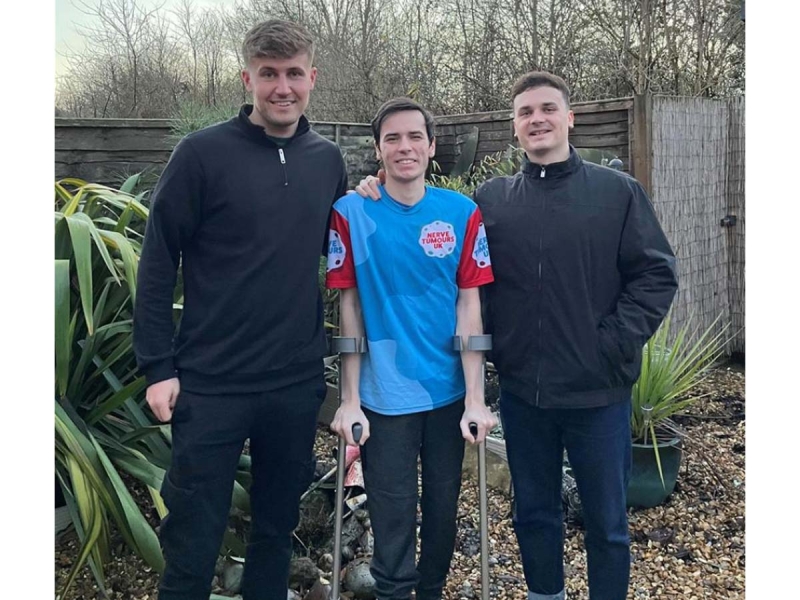 Derry & Dan
Derry will be running in 2023 and Dan in 2024. This charity is very close to our hearts. My brother and close friend of Derry, Patrick Smith suffers with a very rare condition called NF2 (Neurofibromatosis Type 2). 1 in 33,000 people worldwide suffer with this condition and there is very little research, support and understanding around it.
Nerve Tumours UK has been a strong pillar of support for my brother and other people with similar conditions, so we feel that the support for this charity is extremely important and would like to raise awareness for their cause and the conditions they focus on.
My brother was diagnosed with NF2 when he was 7 years old but has had it since birth. For Pat, NF2 has caused tumours to grow on his lower and upper spine, as well as on his acoustic nerves in both ears. Pat has had 2 major spinal surgeries (lasting around 11 hours each) to remove some of the tumour; 1 head surgery to remove the tumour in his left ear; and so many other surgeries to help treat the symptoms of his condition.
Despite Pat's condition, he has completed two very successful fundraisers for Nerve Tumours UK to date. Despite his condition, Pat has continually pushed himself beyond the limits of what he thought was possible, completing a 7-day walking challenge and a 13km triathlon, inspiring so many along the way - a breath-taking story which the BBC covered on Midlands Today and was noticed by many who nominated Pat for the National Diversity Awards in 2021.
For Pat and many others with similar conditions, Nerve Tumours UK is an extremely supportive structure, providing support and funding for specialist nurses and scientific research.
We would like to carry on from Pat's heroic efforts by running the London Marathon to further raise awareness and money for this special charity which gives Pat and so many others like him much needed support.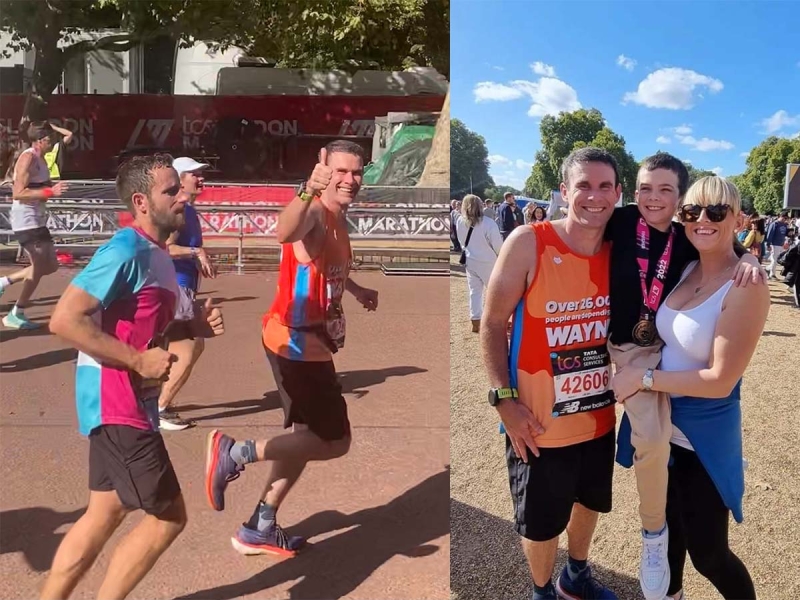 Wayne
This will be Wayne's seventh marathon for NTUK. Wayne and Leanne have supported Nerve Tumours UK over the years in fundraising with events, through their wedding fayre business and London marathon challenges.
We do this because our only child Harley who is 11 has Neurofibromatosis Type 1. This has caused him to have an inoperable brain tumour. He is also autistic, has a significant speech and language delay, and other health complications. Harley is the reason we want to make neurofibromatosis more known.
We do lots of other fundraising too, and we love doing it – we know how important Nerve Tumours UK's work is in raising awareness and providing support with the helpline and the NF nurses. We have always fundraised for Nerve Tumours UK because we know how much they need to raise awareness. I am a nurse, and before Harley was diagnosed, didn't know anything about Neurofibromatosis.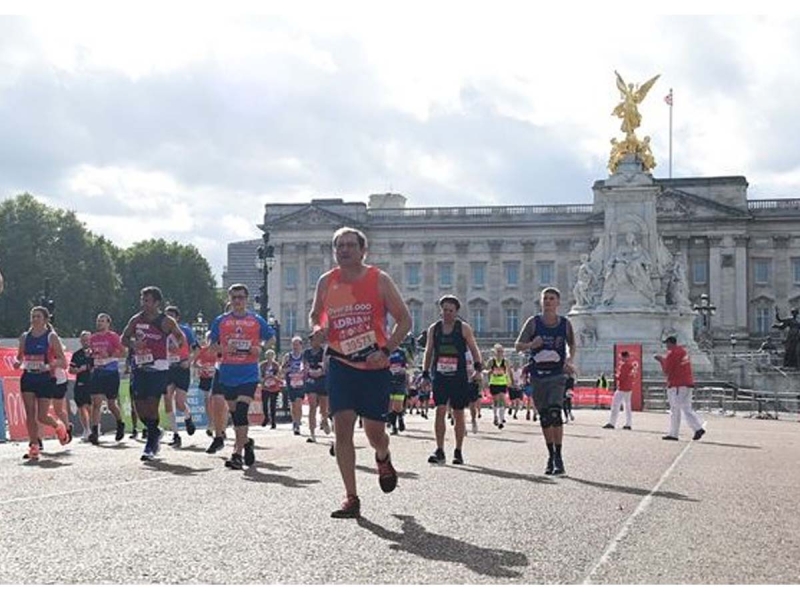 Adrian
This is Adrian's 11th marathon (8th London Marathon for NTUK). His niece has NF1 and last year she chose the outfit for his milestone 10th race. His costume, Elsa from Frozen, drew lots of attention.
Robert
This is Robert's 2nd London Marathon for NTUK, he committed to running 2023, on speaking to the Head Office team immediately after collecting his medal last year! He's hoping to beat the time set by his girlfriend's brother, who had previously run for NTUK.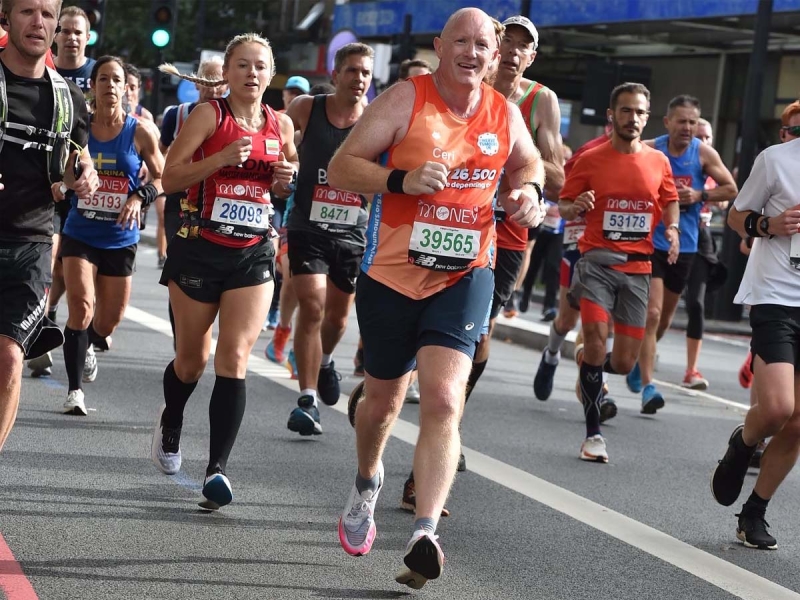 Ceri
Ceri is taking on his second marathon for NTUK, helping to raise awareness as some of his wife's family have NF. Ceri & Sharon both ran for NTUK in 2021.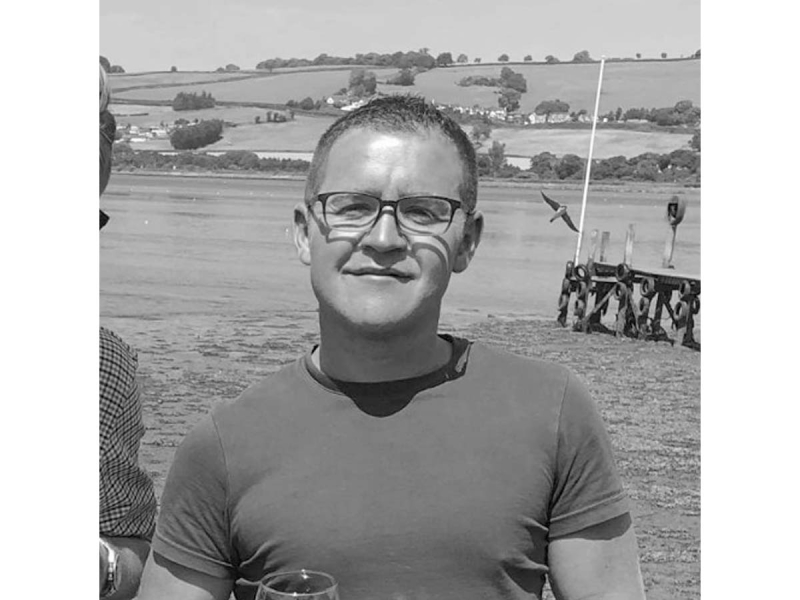 Steve
In April I'll be running the London Marathon, and ticking it off the bucket list of silly things I'd like to do before my knees finally give out. Whilst I'm excited just to have a place, I decided that I'd like to try and do some good along the way, and raise some much needed funds for a charity that doesn't necessarily always get the funds or support they need - Nerve Tumours UK. My employer JCDecaux is supporting their awareness campaign. I've chosen a tumour charity in honour of two friends who bravely fought, but sadly lost, their own individual battles with tumours. I'll be running in honour of Dan Vigar, who 22 years ago gave me an opportunity that kick-started my career, and Dave Webber, one of the best rugby-men I ever had the pleasure to share the field with. Two great men, one worthy charity, one old fella just hoping to make it around the course.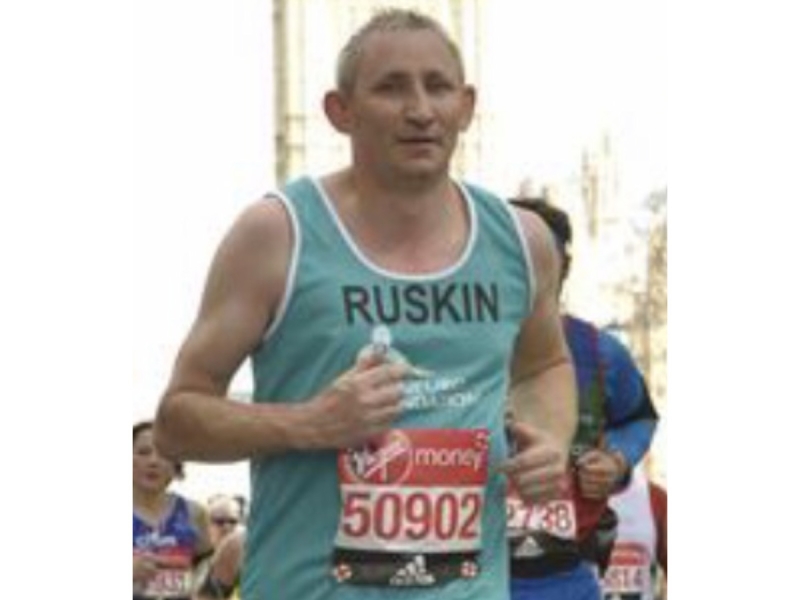 Paul
This is my 4th London Marathon running for NTUK. My wife has NF1 so I hold this charity close to my heart as it does a great job. I'm not going to lie, the training has been hard this time around but I will always give my best. Good luck to all the other runners!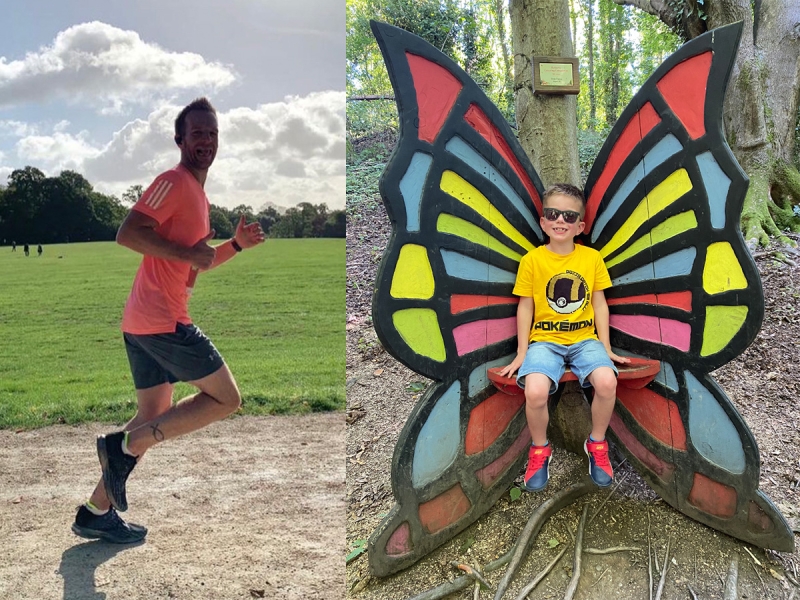 James
I'm nervously excited to be coming from Belfast this week to run my first ever marathon in London, and delighted to have the opportunity to do it on behalf of Nerve Tumours UK. My son Oscar was diagnosed with NF1 last summer at age 8, and he suffers from a number of painful plexiform neurofibromas and is awaiting surgery in Manchester.
I'm keen to help NTUK raise awareness of neurofibromatosis so others in the future might have an easier journey in getting the help they need, and to raise funds to help them continue their great work and vital research in to the conditions.
Good luck to all our Team NTUK runners!
We would love to feature even more stories from our 2023 runners - email us fundraising@nervetumours.org.uk
We look forward to meeting you all on the day.