08 November 2022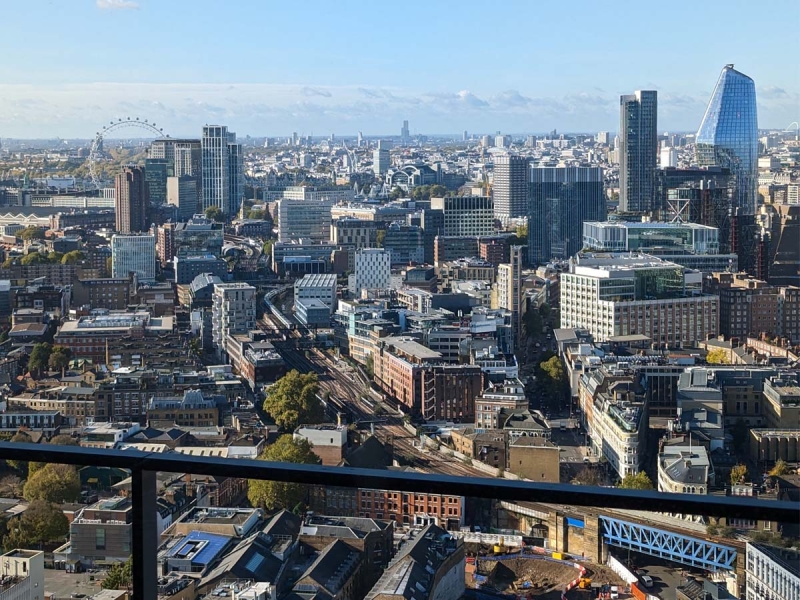 This year's National NF2-SWN meeting took place at Guy's Hospital on 4th November. It was held as a hybrid meeting with around 40 colleagues joining in person and another 35 online. It was hosted by the London NF2 team and attended by clinical leads from all four of the England NF2 centres as well as many other members of the NF2 multidisciplinary teams from the hub centres and satellite regions, including the Nerve Tumours UK Specialist NF Nurses.
Manchester - Professor Gareth Evans & Professor Andrew King;
Cambridge - Mr. Patrick Axon & Juliette Buttimore;
London - Mr. Rupert Obholzer & Dr. Shazia Afridi;
Oxford - Dr. Allyson Parry & Dr. Dorothy Halliday;
The patient group and experience section featured talks from Nerve Tumours UK (Karen Cockburn, Charity Director) and NF2 BioSolutions UK & Europe (Claire Goddard, CEO) for updates on the work of their respective organisations representing people with NF2, as part of the session on patient involvement. This session was also attended by Emily Owen, Trustee for Nerve Tumours UK.
Karen Cockburn, Charity Director NTUK & Emily Owen, Member of the Board of Trustees NTUK, Author and NF2 Advocate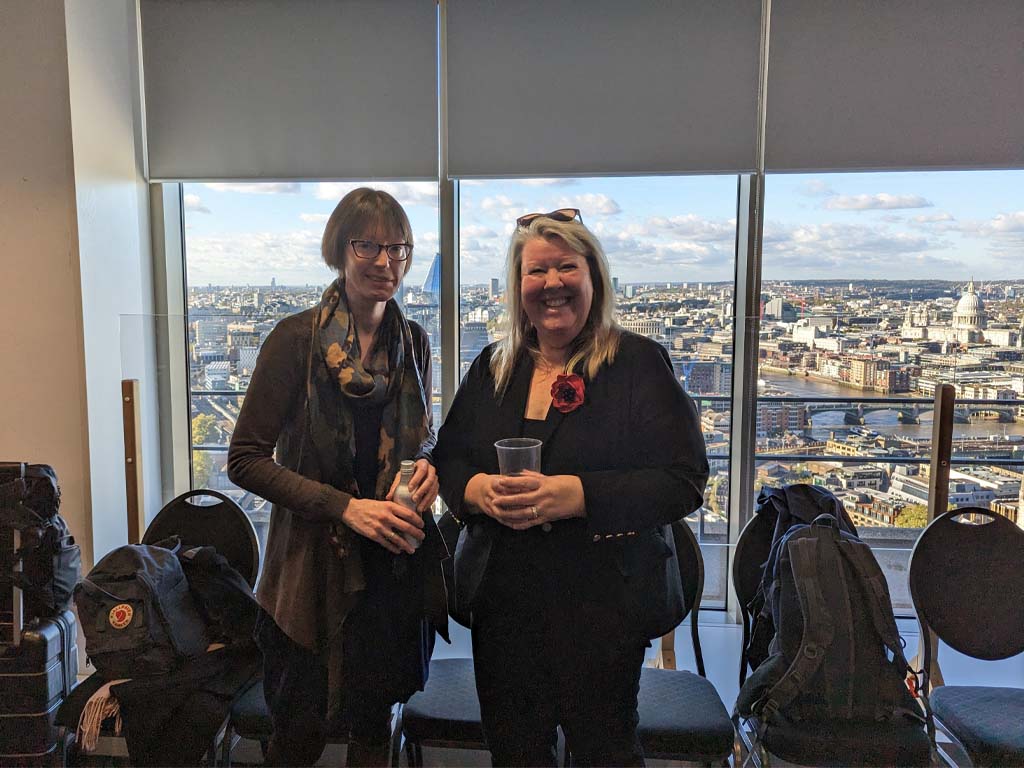 Rachel Woolrich, Principal Clinical Psychologist at Oxford , gave a talk on patient experience of hearing loss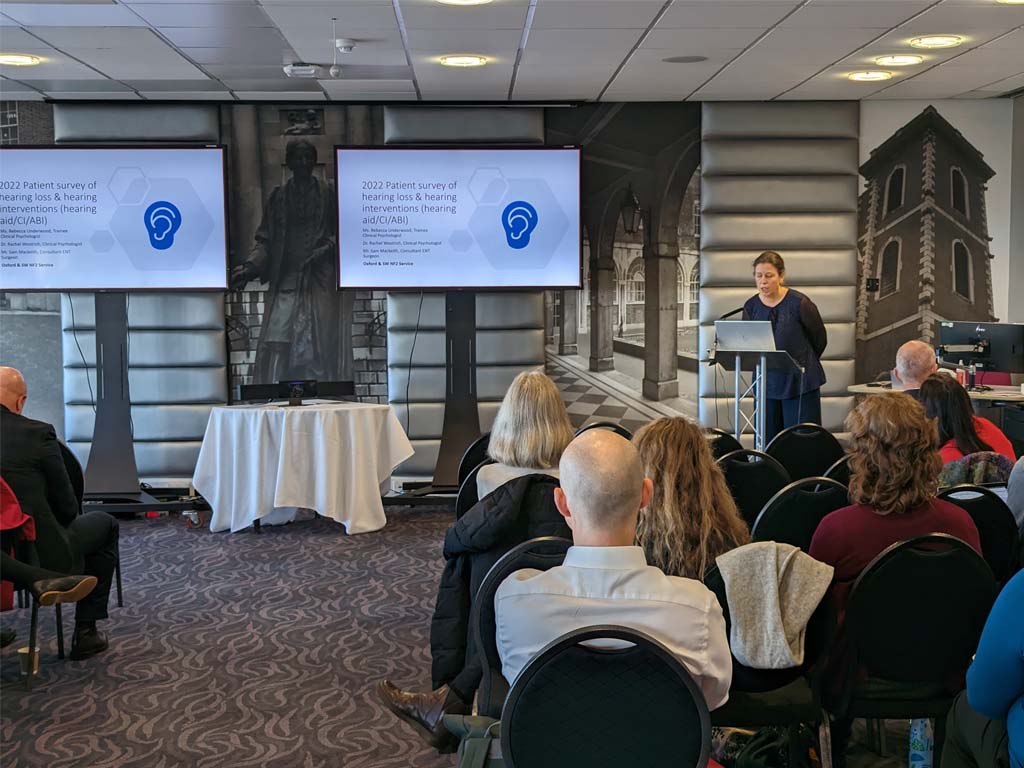 Daniele Borsetto, Consultant ENT Surgeon in Cambridge, spoke about hearing outcomes in NF2 patients across the country.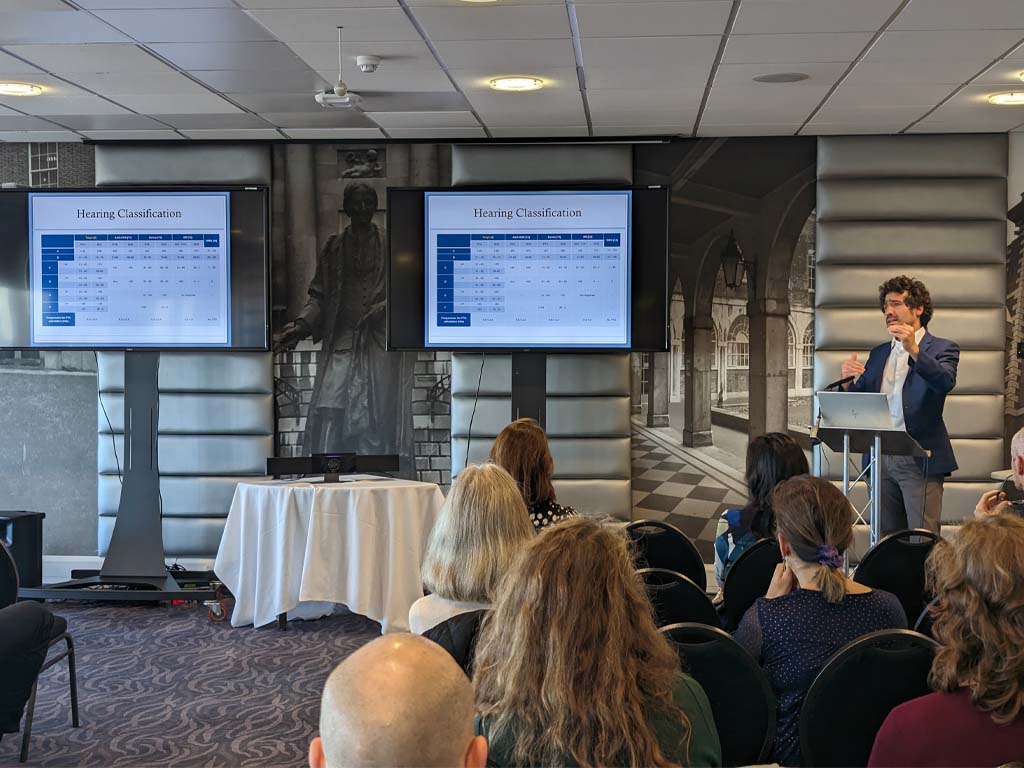 Other sessions featured updates on the recent name change to NF2-SWN, vestibular schwannoma surgery outcomes, the use of Avastin, long term radiation outcomes and research focussing on artificial intelligence in radiology and anti-inflammatory research in NF2 related tumours.
"The annual national NF2 meeting is a fantastic opportunity for clinicians, health care professionals, researchers, commissioners and patient representatives to meet together to review NF2-SWN related outcomes in England and to discuss ongoing trials and research and future collaborative working opportunities. Clinical outcomes for all four hub NF2 centres are excellent which is a reflection of the success of having a highly specialised service."
– Juliette Buttimore, Clinical Lead – NF2 Midlands/East