Prof. Meena Upadhyaya, OBE, shares her memories of attending the Coronation
28 April 2023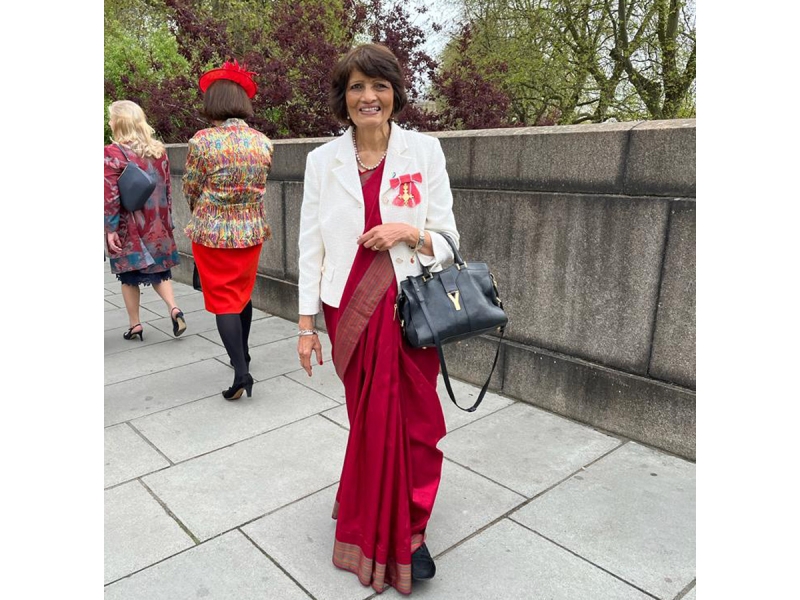 We are absolutely delighted that the Nerve Tumours UK community was represented at Westminster Abbey on 6 May 2023, at the Coronation of Their Majesties, King Charles III and Queen Camilla.
Professor Meena Upadhyaya, Trustee and Member of the Nerve Tumours UK Medical Advisory Board, attended the Coronation and shares her memories of a special day.
"It was such an honour to attend the King's Coronation at Westminster Abbey on 6th May.
The congregation was asked to be there four hours before the ceremony. This allowed me to absorb the finer details of the Abbey and soak up the buzzing atmosphere of this glorious, unforgettable day.
Despite standing in a long queue for a considerable length of time for security checks, it was an enjoyable experience as we chatted with each other: the people in front of me were from New Zealand, and those behind me were from Northern Ireland.
Makau Ariki Atawhai
wife of Māori King, Kiingi Tūheitia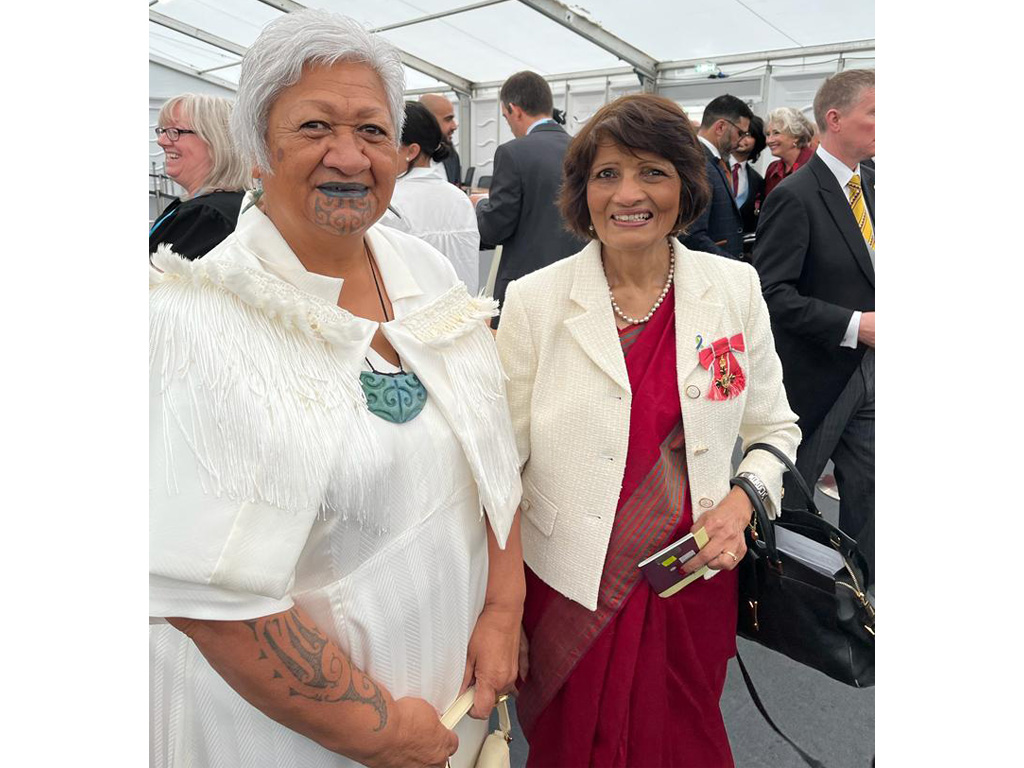 I also spotted actress Emma Thompson and had a brief conversation.
"I was proud to wear my Nerve Tumours UK badge - one of the dignitaries enquired about it and I had great pleasure in introducing the charity.
As I walked down the aisle to find a place to sit, the diversity of the attendees was instantly discernible: people from across the UK and beyond, of different faiths and nationalities, attired in their best dresses, hats, suits, and some wearing national costume. Sitting down, I was so excited to see the globally renowned people, such as Heads of State, Commonwealth officials, senior politicians and dignitaries parade down the aisle. It was such an exciting moment.
The Coronation music was stunning. It included traditional and modern genres with phenomenal performers, including military bands, choirs, composer Andrew Lloyd Webber and many more.
The Coronation ceremony was traditional and consisted of the oath, anointing, homage, investiture, and enthronement.
I had a remarkable view of the King walking towards the door in his beautiful robe, decorated with his glittering crown and regalia. His grandson Prince George was one of the four pages of honour, and held the train of his robe."
As we waited to leave the Abbey, PM Rishi Sunak appeared near the entrance door, I had the privilege of shaking hands with him and speaking.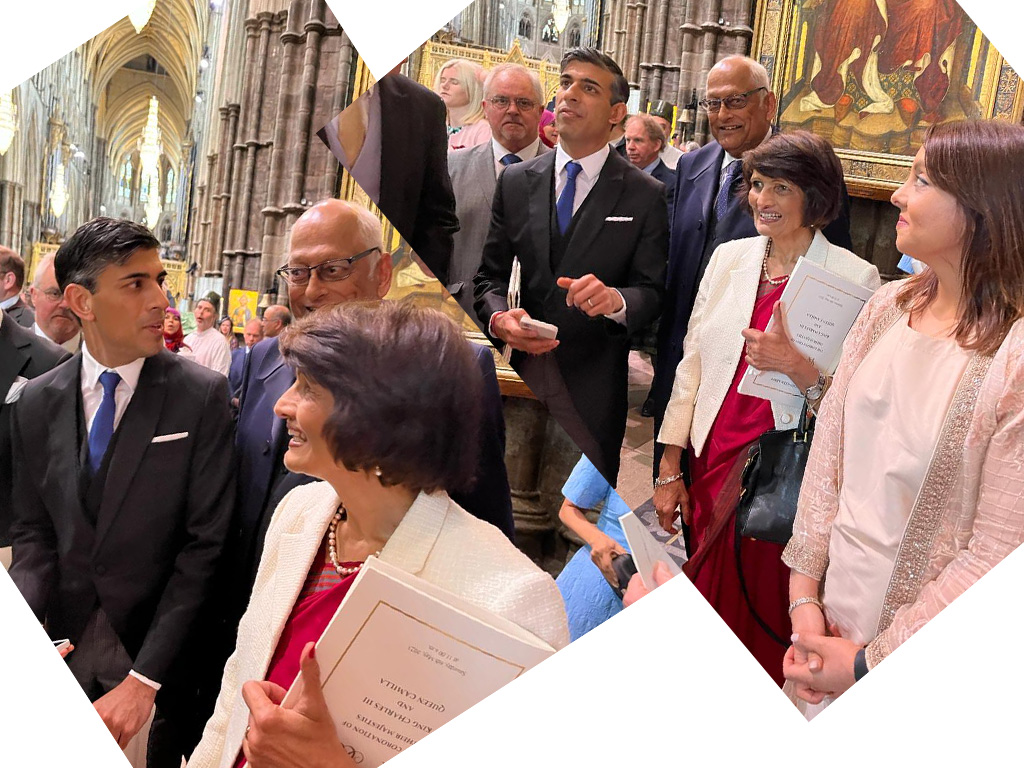 "What an extraordinary ceremony! The memories of this incredible historical event will always stay with me, and I feel very blessed to get the opportunity and hope to share these marvellous memories with my great-grandchildren."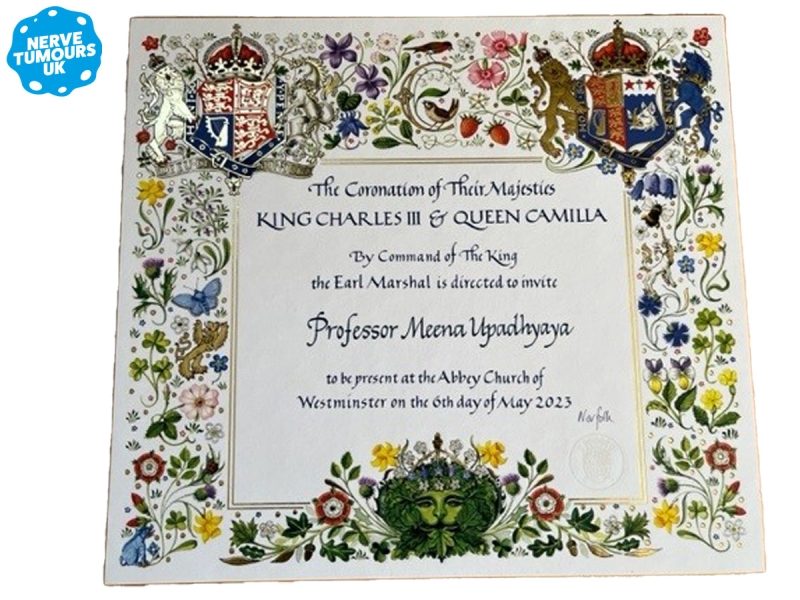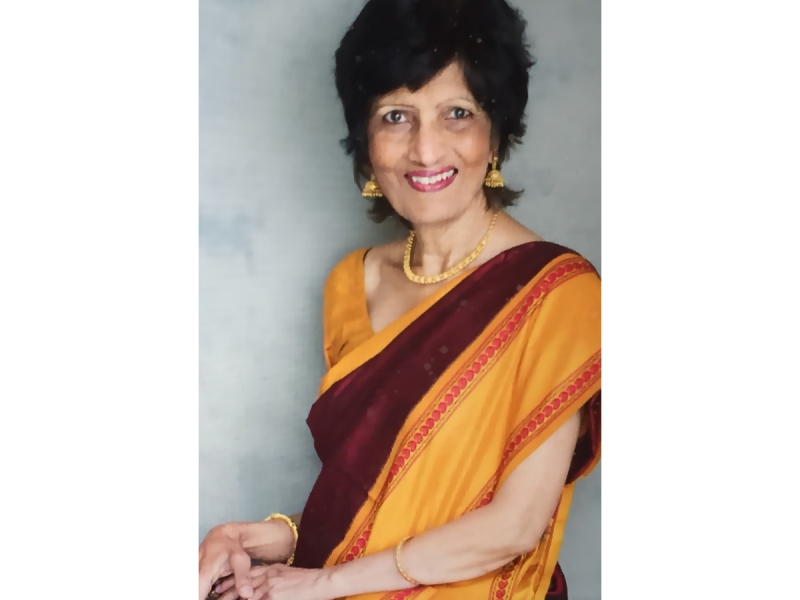 Professor Meena Upadhyaya OBE obtained her Ph.D. from Cardiff University and completed a fellowship with the Royal College of Pathologists (RCPath). She is Emirita Professor in Medical Genetics at Cardiff University, Wales.
Her research career focused on many genetic disorders, especially Neurofibromatosis Type I (NF1) and Facioscapulohumeral Muscular Dystrophy. She has published 200 papers and has edited 3 books on NF1.
Meena was awarded the European Theodore Schwann Award for her outstanding contributions to NF1 research in 2013, an OBE in 2016 and the Saint David Award in 2017. She is also a Fellow and Council member for the Learned Society of Wales and the Royal College of Pathologists.
Meena is an avid advocate for promoting equality, diversity, community cohesion, and integration. She is the founder and Chair of the Ethnic Minority Welsh Women Achievement Association (EMWWAA) and the Ethnic Minority Women in Welsh Healthcare (EMWWH).