05 March 2018
Ella's Story
Hi, my name is Ella.
I first wrote about my NF journey a few years ago, so I just wanted to update everyone as I am now turning 15 years old.
About a year ago I took part in Duke of Edinburgh Award Scheme at my school and it helped me gain confidence and learn new skills such as cooking outdoors, reading a map and using a compass. For part of my DofE I did guided reading with year 7 students, learned to sprint and was director of the school summer production.
However, since I last wrote about my journey, I've contracted scoliosis which is associated to NF and causes me a great deal of pain in my back. I now must wear a Boston back brace 23 hours a day to try and stop it getting worse. I went for my back-brace fitting at Birmingham Royal Orthopaedic and I saw an incredibly nice man called James who really looked after me, so in return I baked cakes for him and the team. Although I now find it hard to take part in sporting activities at school due to the pain in my back and the fatigue I get from NF.
I have also been diagnosed with severe myopia (short sightedness), this was scary as it came on very quickly. My optician was worried, however as luck would have it, he was part of a trial involving just 10 opticians in the UK that were using special contact lenses that halt the progression of myopia.
I've therefore been using these lenses for over a year now and my condition has thankfully stabilised. Unfortunately, the lenses are not available on the NHS so instead my parents paid for them, I'm very lucky!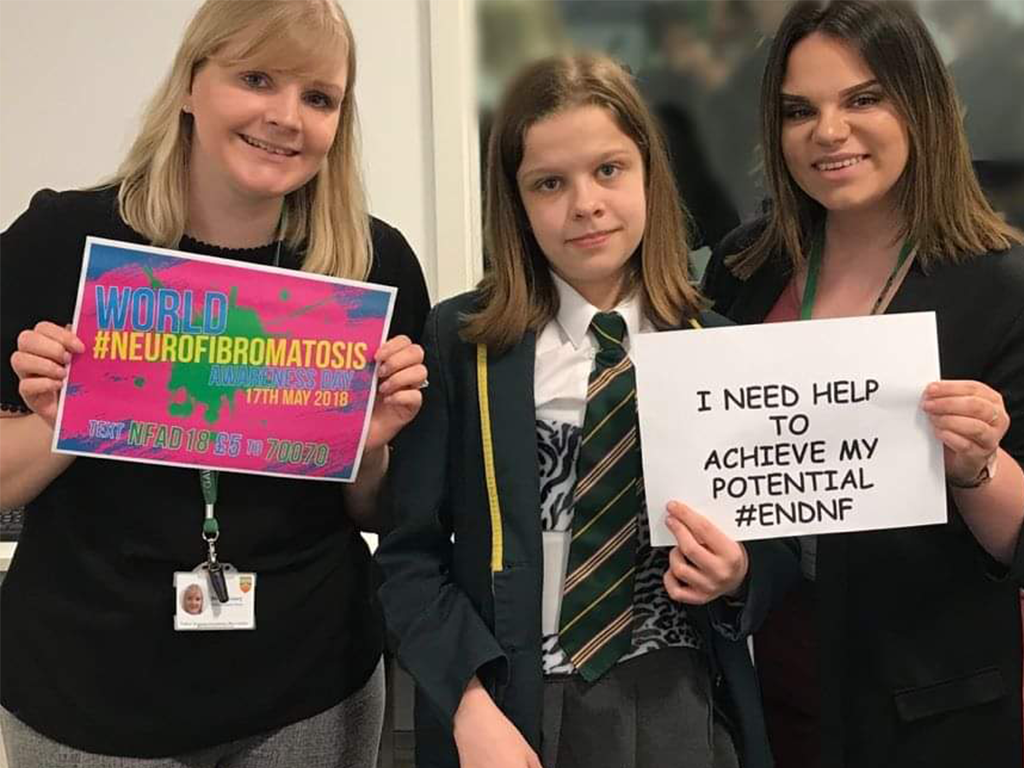 ""In October it was my brother's birthday, he is at university in Denmark, this year he decided not to have any birthday presents but instead asked people to donate to Nerve Tumours UK. He raised over £500! My brother always looks out for me, even when I'm not very nice to him.""
– Ella
About 5 months ago I started to get mental health problems such as OCD. I find I don't want to touch certain things or even members of my family as I worry about contamination. I get very anxious and angry too, it makes me want to hit out! I don't think people understand me, not even my school. Just recently two NF nurses Mel and Carolyn came to my school and spoke about NF to my teachers, I felt both have supported me. They always let me ring them when I need to talk, I've even been allowed to ring them when I've been at school.
I miss being my old happy self and I feel sad because I sit down all day doing nothing at the weekend as I'm so anxious. I just want to get over this and start enjoying life again. My oncologist is trying to get me more help with a specialist which my parents say is a start, but I need to start to help myself too. My parents say this is a battle I can win, and I for one believe them!