Shine A Light on Neurofibromatosis. Celebrate 40 years of NTUK - We are working with organisations worldwide to light up landmarks and buildings in blue for May 17 - Neurofibromatosis Awareness Day!
Donate here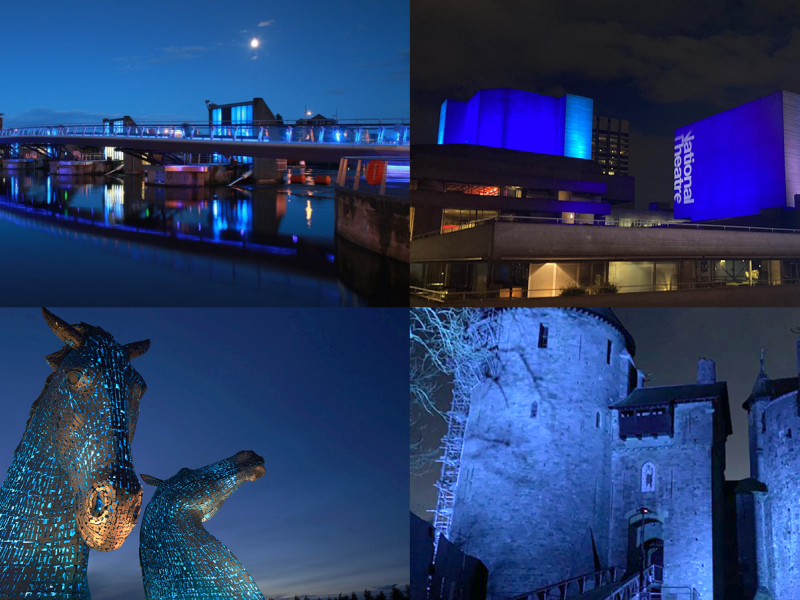 Shine A Light on Neurofibromatosis
Nerve Tumours UK is turning 40, in 2022, having been founded in 1981, when Trish Green and Clare Pepperell were brought together by a BBC radio programme called "Does he take sugar". Both parents had been trying to find other families affected by Neurofibromatosis. Initially called, "Link: The Neurofibromatosis Association", the organisation was first registered as a charity in 1982. Since then, the charity has evolved to become Nerve Tumours UK, the leading voice and support network for people living with Neurofibromatosis in the United Kingdom. We need to Shine A Light on World Neurofibromatosis Day in 2022, and highlight our work and the services that are available in all four countries of the UK.
In association with our friends "across the pond" in the United States, the Children's Tumor Foundation, we are excited to announce the return of the "Shine A Light on NF" campaign to raise awareness for Neurofibromatosis by lighting up landmarks and buildings on World Neurofibromatosis Awareness Day - May 17th.
Neurofibromatoses, the umbrella term for a group of genetic conditions (Neurofibromatosis Type 1 (NF1), Neurofibromatosis Type 2 (NF2) and Schwannomatosis) translates to mean "Nerve Tumour Increase". The condition causes tumours to grow on nerve endings. We want to raise awareness to help those with the condition, so they receive the correct support, and to campaign for funding for better services.
World Neurofibromatosis Awareness Day falls on Tuesday 17th May in 2022!
We are asking iconic landmarks, buildings & homes to light up blue for Neurofibromatosis patients worldwide. We are providing Social Media Toolkits to all willing organisations to showcase why they are lighting up, along with case studies, donation links and many other ways to support patients with NF on the upcoming awareness day. This year we will give you the opportunity to join in the charity's 40th Anniversary throughout World Neurofibromatosis Month in May and specifically on World NF Type 1 Day on 17th May and World NF Type 2 Day on 22nd May. A celebration of a growing and supportive Neurofibromatosis community, since its humble beginnings in 1982.
A special relationship
This will mark the sixth year that Nerve Tumours UK have joined the campaign, reinforcing our continued partnership with Children's Tumor Foundation in the United States. We are very pleased to be part of this excellent, global initiative.
Check out CTF's campaign page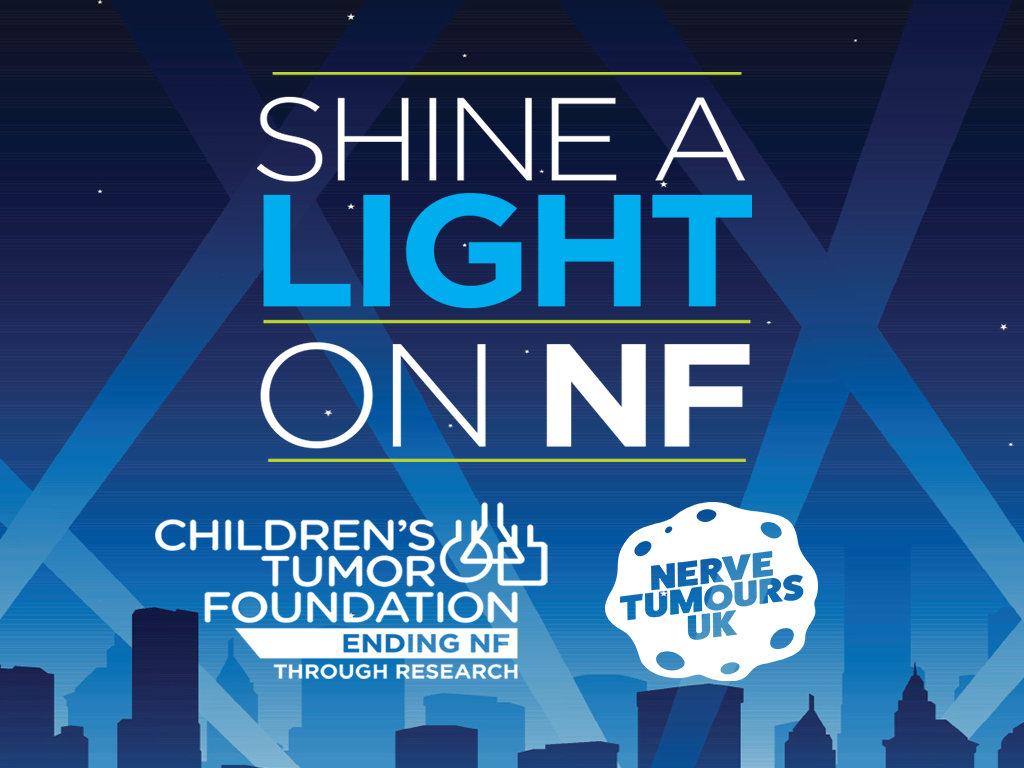 "We are so happy to have been joined by 172 landmarks lighting up globally, last year, across 13 countries, and we want to do even better this year! 83 of those were in the UK alone, so let's keep that tally going! Join in and support our NF Community and make our voices heard!"
– Jay Law, Events and Campaigns Coordinator at Nerve Tumours UK
Take Part! Join the NF Community
Shine A Light on Neurofibromatosis
World Neurofibromatosis Day
Tuesday, 17 May 2022
Right now we have 204 buildings confirmed to light up on World NF Awareness Day, Tuesday 17 May!
(Subject to change)
These include:
Tower 42 (formerly Natwest Tower), London
National Theatre, London
SSE Arena, Wembley, London
Salesforce Tower, London
Spinnaker Tower, Portsmouth, Hampshire
Coventry Centre Fountain, Coventry, West Midlands
Worcester University Arena, Worcestershire
One City Square, Leeds, West Yorkshire
Town Hall Clock, Wakefield, West Yorkshire
The Royal Liver Building, Liverpool, Merseyside
Blackpool Tower, Blackpool, Lancashire
Edinburgh Castle, Edinburgh
Maryhill Burgh Halls, Glasgow
University Hospital of Wales, Cardiff
The Swing Bridge, Isle of Man
The Gaol, Armagh
Mossley Mill, Newtownabbey, County Antrim
The Dublin Convention Centre, Dublin
Download the full list of confirmed buildings lighting up for World NF Awareness Day below
Shine A Light on Neurofibromatosis: Raise awareness of Neurofibromatosis by lighting up landmarks and buildings on World Neurofibromatosis Awareness Day - May 17.
26,500 people have Neurofibromatosis in the UK.
Make sure their voice is not forgotten in a changing world.
Support us now more than ever. Help us raise £26,500 - a £1 donation for each person that has Neurofibromatosis in the UK.
Copy the above paragraph including the linkage and post this to your social media, send it to your MP, local press or anyone you can think of that will support our campaign.